some basic ground rules for applications regarding PRIVATE MILITARY with BSG/EUBSA: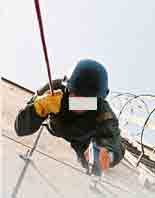 The info on this web page concern Private Military operators mainly. At present, literally thousands of security operators try to get "a piece of the action" in AO's such as Iraq and elsewhere. Many hundreds of ex-military, ex-police or private security operators apply with us each year. Unfortunately, many applicants do not understand the complete mechanics of the professional world within private military industry. To prevent you from wasting your time AND ours, we'd like to lay out some of our principles. We are receiving just too many applications which will be ignored due to the lack of a certain basic standard. We will not answer to applications that are incomplete - we expect applicants to send in a formally correct application, as they would via snail mail. Please do not think using e-mail means it's ok to drop the formal style altogether. We do expect a formally correct application. Please be aware that we receive dozens of applications each week - it may take a little while before we can reply to your application. Please allow a minimum of 6-8 weeks before you check back with us as regards your application. Many security firms will make staff redundant shortly. Thousands of ex-Iraq operators etc. from various countries will be flooding the market come 2008, in addition to the vast amount of ex-military already trying to find employment. Our HR dep't is handling literally hundreds of applications each month. We will select and answer only those applications that fit our requirements.
You need to speak English well enough to operate and communicate entirely and with ease in English. This is an indispensable requirement. There's no way around this. Even though we may offer German, French, Spanish web pages dealing with recruitment, English will still be the central, main language. In international security, you can't successfully operate long-term without a good working knowledge of the English language. Communicate and apply with us in English, please.
1. We are NOT looking for desperados, cowboys, machos and gunslingers and the like. If all you know is how to fire a few types of weapons, please do not apply. On a global scale, many thousands of experienced combat experts from Eastern Europe, Africa, Asia, the Americas, the Middle East, France, Britain, the US and even Asia are available, many at low salary. We do not employ inexperienced personnel with no REAL combat experience. For us, this means: you've really shot at people, people have really shot at you with intent to kill you – again: we are NOT too much involved in the regular static security, facility guarding, convoy security etc. We've seen people break down and cry in real combat situations due to lack of experience and we don't really want that to happen in our teams. Other example: it is great if someone had excellent sniper training but this would be of no use to us if they had never actually fired a rifle upon a person, let alone in a non-threat, civil environment... If you applied as a sniper for private military, we'd expect you to fire at the enemy if the situation warrants it... (this is NOT the only or even main task of a sniper, of course). If you cannot do that if need be, don't apply as a sniper. If you have the training but you're not willing to use your skills when the assignment requires it, then the skills are of no use to us. It's important to understand this.
2. We are not arrogant or macho, we're just being realistic. We can't have wannabes, war gamers and non-experienced operators in our teams either. That is the only reason why we make this kind of selection. Our main line of business is NOT static security and convoy protection, thus requirements for employment with us differ from those with other security companies which might be focused more on static protection, convoy protection etc. We've received criticism that it's paradox to ask for warriors with real combat experience on the one hand, and then say we don't want gunslingers… Well, we don't look at it that way. We think it's a BIG difference between an experienced, intelligent warrior and a gunslinger. We are looking for warriors who can make that difference.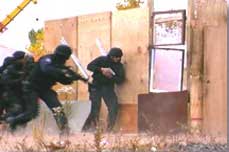 3. Make sure when applying with us that you understand what PRIVATE Military is all about. You are no longer official military, you are no longer law enforcement - you WILL need to act for a private client and HIS interests, you might NOT be protected by the law as you've been as a member of the Army etc., in fact, at one point or the other, you might even get in conflict with one law or the other when running ops in some foreign country. As a matter of fact: this goes even for official SpecOps members more often than not, the trick for them is NOT to get caught. In MANY SpecOps operations, even Delta or SAS members break the law quite frequently and would they get caught, ended up in dire straights. So please be aware that in private military you are NOT covered by your government and you should be still very comfortable with that.
There is hardly any way to avoid some sort of "inner conflict" at all times as our client's opponents might not care about the law either. Please refrain from applying with us if that's a general problem for you. Our job is usually not of the humanitarian kind. We are looking for the private professional warrior who will put the client's interest first and act, when he's being asked to.
4. If you're looking for an easy job, static security, mainly in no-risk or low-risk environments, do not apply with us. You will need to enter high-risk AO's at certain times, you must be willing and able to travel worldwide and work according to our schedule (which is NOT 9 to 5...), and we expect you to be loyal and follow instructions and orders. If that is not what you've been looking for, please do not apply with us.
5. We expect you to send in a CV/resume, of course. We need your full name, address and a land line phone no. and e-mail address. What we do not want for now is a list about a mile long of how many certificates you own (we might very well come to that later on), what kind of guns you can fire, a dozen martial arts you might know, the "associations" you are member of and such like. In your initial application, please just state the kind of skills, training and qualification you have and where you acquired these and what kind of professional experience you have. We expect you to know how to fire one kind of rifle and pistol, thus we take it you will easily be able to fire other models, too... so please don't list all models you ever held in your hands unless you're talking about very specific weaponry. If we feel your service might be of interest, we'll contact you back and ask for details and copies of certificates etc. at a later point.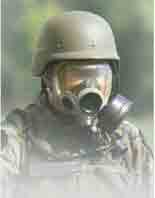 6. The fact alone that an applicant has once trained with members of certain unit or agency does not mean too much to us. Again: we are interested in combat-experienced operators and veterans ONLY, true expert warriors with real work experience; we are not looking for run-of-the-mill ex-military or ex-police with standard training. We keep receiving just too many applications and simply cannot even reply to all of those e-mails if they don't meet our standards. We're sorry, but that's like it is. When in need of simple security or military operators, we're more likely to use the pool of ex-combat personnel from readily and abundantly available staff pools inside the BSG. And PLEASE: don't tell us you're a Marine, when you're not... we CAN find out about these things and we will ask you to provide credentials at a later point to show us that you are in fact what you claim to be. Thank you.
7. Last but not least: as regards private military, we focus on certain special operations, we are not the regular private military company guarding compounds or convoys etc. We do need special operators and these are rare, we are aware of that. We do need to select our staff very carefully to be able to react to our clients' special requirements. We prefer SOF operators, Marine Recon/Sniper, Rangers and similar operators with combat experience and preferably college education, intel skills for military ops, as well as undercover and special investigations in civil environments as well. You should also be willing to learn new skills. We are currently interested in rotary wing operators with combat experience, logistics experts with good contacts to civil suppliers and operators with ELINT experience (also technical). Applicants with active US security clearance will be favored.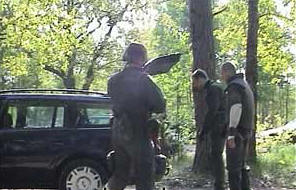 Please DO NOT send in your application to 10 different of our e-mail addresses... ALL our BSG network partners share the same internal HR department; all applications will finally end up in the HR dep't, so it won't raise your chances to e-mail us a dozen times. Once your application has been reviewed, the officer in charge will contact you! It will NOT help to send in more than one application!
Please use the contact form for the initial contact and send in your short resume using that feedback form, rather than e-mail. The feedback form is secure as it runs on our server only. THANK YOU!
Find out about the BSG selection and exam course
you can contact us any time via our secure feedback form - please address all communication regarding employment to the HR department ONLY. Thank you. All other attempts to apply for any position will be ignored!